It's always a wonderful thing when a foster cat finds their forever home. It's an especially wonderful thing when they get snapped up nearly as soon as they're eligible for adoption! It's an extra super special amazing thing when both trikitties in foster at BARCS end up having the same adoption day! Let me tell you a bit about this pair of awesome tripods.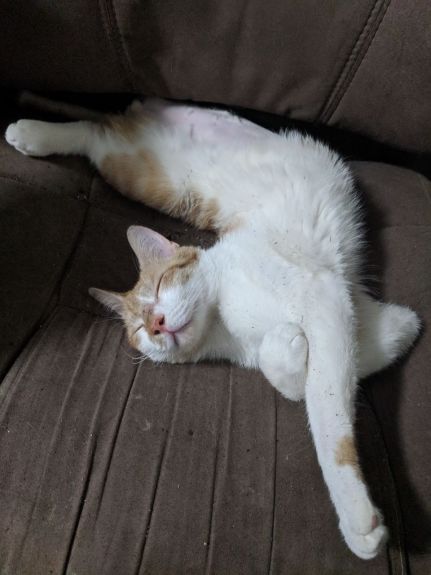 This is Frieza. Frieza was rescued from a severely neglectful situation that resulted in part of his tail and his rear leg getting amputated due to necrosis. Following his amputation, he was having such a hard time in the shelter. He wouldn't get up and move around, and ended up peeing and pooping all over himself. The foster coordinator sent him my way for a stay in my brand new post-surgical suite (a cat playpen).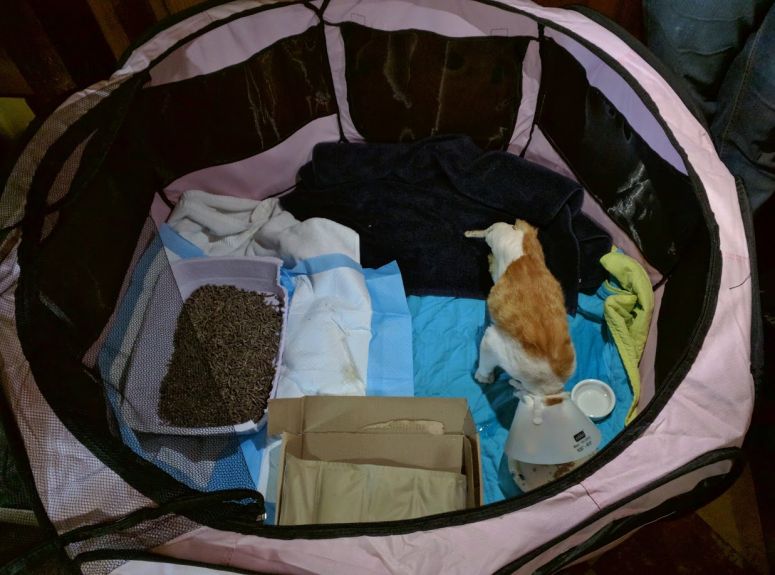 This photo was taken five minutes after we got him in the house. I was thrilled to see him improve this significantly so quickly. This sweet kitty had a rough life, but thankfully he didn't have a rough recovery. We did end up having three fosters in the house at once at the time, as Link was a week away from going to his forever home and Peeper (our one eyed foster) was two weeks away from hers. Scooping the poop of five cats total was one hell of a workout, let me tell ya.
Frieza quickly proved himself to be a super friendly and playful cat. It took some time to build up his strength again but before long he was zooming around all over the place. He was very well socialized with humans, but not so much with other kitties. Team Socialization did a great job of that, although they did find themselves getting worn out by this energetic little boy.
Frieza ended up having six interested parties within a week after he was eligible for adoption. I was so happy to see that so many other people saw just how wonderful he is. He found the perfect match with members from my Three Legged Cats Facebook group, and they even drove for six hours here and six hours back for him! He has settled in so very quickly and getting updates from the adopters fills me with so many smiles, even if I miss him terribly. I will be writing up a full post about this wonderful boy soon, once things calm down from this whirlwind turnaround time (due to circumstances related to his rescue, we were assuming that he would be staying with us for 4+ months).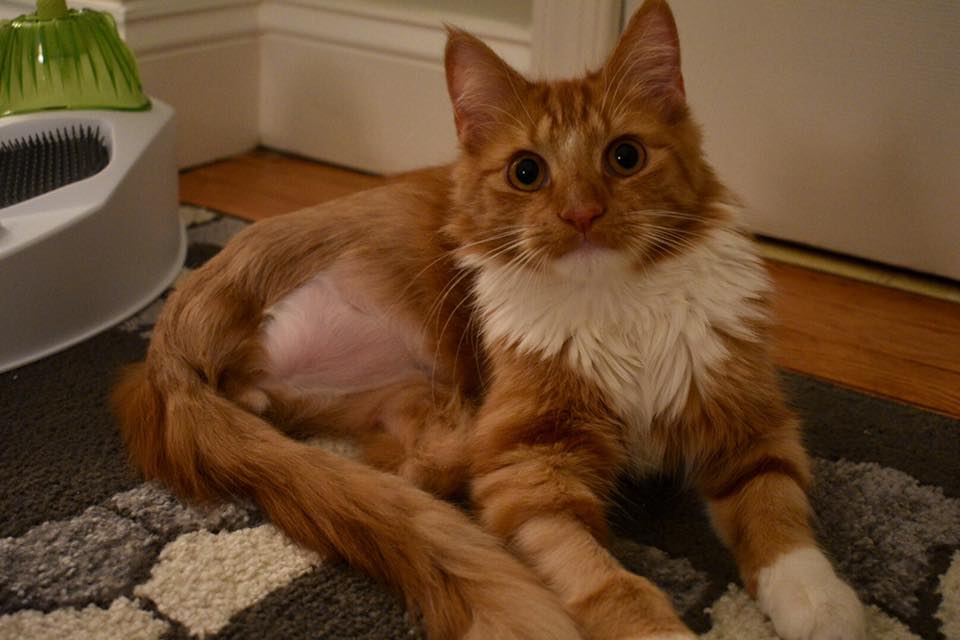 And this cutie is Fozzie! I was originally going to foster him, but the shelter was trying to save his leg at the time and needed to keep him there for the time being. Then Frieza came in and we were super filled on fosters, so Fozzie was fostered by another excellent person at BARCS. 🙂 Fozzie had a super hard time medically during the initial treatment. When I saw him come into the shelter, he just had some markings on his rear leg. The next time I saw him to meet him for potentially fostering him, it had swollen up and skin was sloughing off. Poor little guy.
Things were rough for him during the post-amputation recovery too. There were a few times where I sat staring at Facebook Messenger, waiting for a message from his foster home that he was back from the pet ER / fever broke / etc. It took awhile for him to get to even footing during the recovery, and he also had some phantom limb pain to deal with.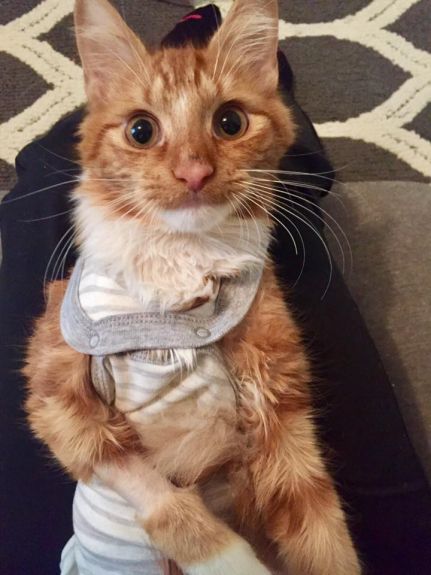 Thankfully, things continued to get better for this expressive little boy and he ended up getting adopted by one of the people who contacted me about Frieza! Another of the potential Frieza adopters is currently waiting for the next trikitty to come through our doors. 🙂
Three cheers for the new #TeamTripod members. 🙂