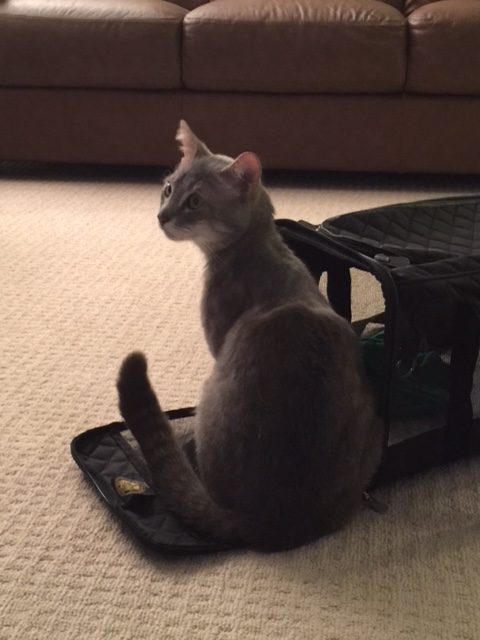 Link's adopter is being so sweet at sending me updates on how he's doing. 😀 It was so, so hard seeing him off. I'm not gonna lie, I was crying in the lobby as the adopter finished up the paperwork, and spent about an hour in the foster coordinator's office bawling my eyes out after they went home. It's hard, especially when you end up with a foster that stays with you for a longer time (he was one day shy of two months with us). Having the adoptive parent stay in touch definitely has helped a lot! Here's what he had to say about Link!
"So the little fella practically napped the whole way home, brought him in to get accustomed to his new digs (my finished basement), and he proceeded to carefully walk all around sniffing and looking at everything, and I mean EVERYTHING!….he jumped up on the couch, then the love seat, for a better view I suppose J  Checked out his litter box, food, water, then went back into the carrier to relax.  I left him alone for a little while, returned, and he was still chilling in his carrier, so I began rubbing his cheeks, which triggered his motorboat purring J  After a few minutes, I stopped, he got up, left the carrier and walked over to me, rubbed against me, then returned to his carrier…he's so adorable!!!"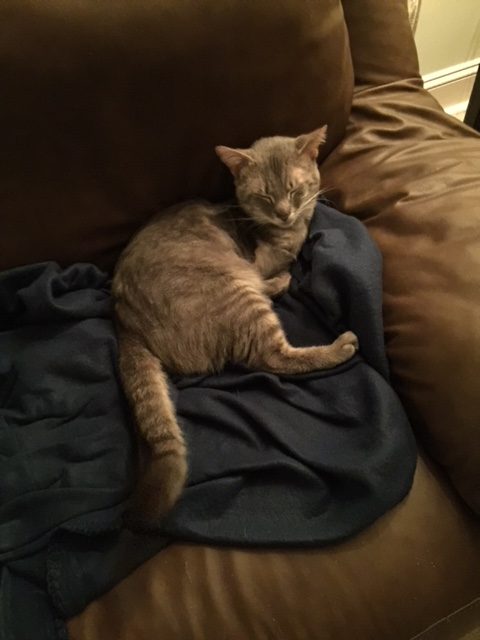 "He is adjusting amazingly!  Seems very settled with his new environment, displays tons of affection, is getting around fine, not eating too much dry but devouring the wet, and np with the little box.  He's settled into a chair which I put the blue blanket on, so looks to be his new bed for now, and when I got up this morning he was all happy to see me, that was until I fed him, when he forgot all about me, and then introduced him to the tree and window sill, which he is no obsessed over!!!  He's amazing, thank you so much for fostering him Tiffany, as it clearly made all the difference in him adjusting without any problem at all!!!"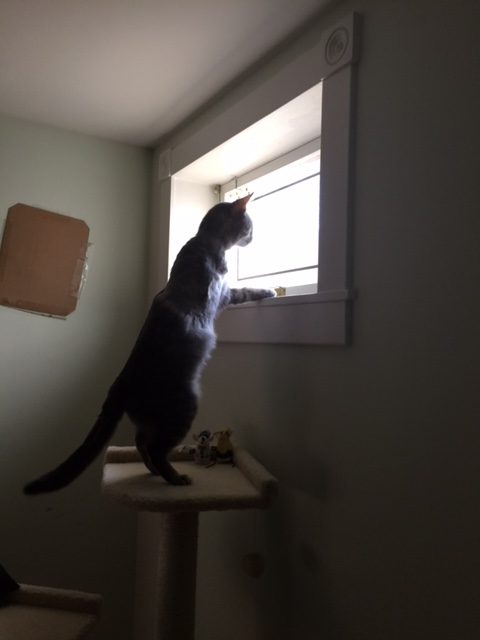 "Hey Tiffany, just wanted to give you an update after the first week, it's official, he's Stanley J
He's the sweetest little guy ever!!!  Adjusting amazingly to his new home and roommate, ha!  Eating like a horse now, so I'll need to keep an eye on this, and I integrated him into the upstairs only 2 days after I brought him home, and other than being overwhelmed by the surroundings, he's once again adapted incredibly…had to look out every window, and literally look at every thing in the room, on the walls, you name it, he's quite attentive in curious.  Speaking of which, is very interested at things up high, and his missing leg doesn't seem to prevent him from leaping up on countertops, tables, etc. with grace and ease…I gotta teach him though these are not places he should be.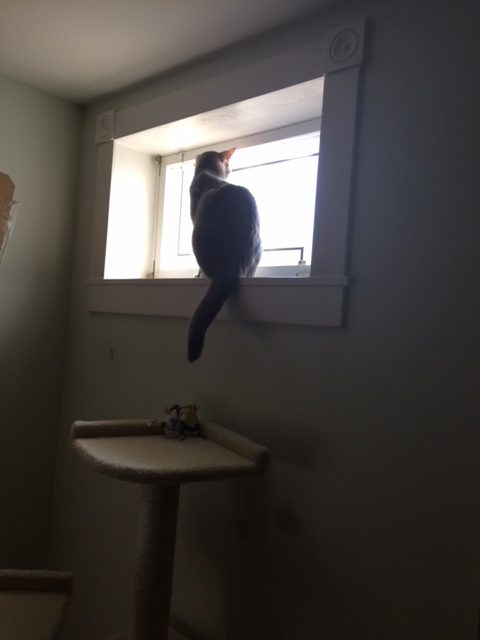 He's got purrs seemingly go on forever, meows when he's hungry and when he's lost track of me in the house, which is adorable! and every now and again he'll get a little feisty and wanna take a swat at me, just to keep me in line, yet never in true anger.  Oh and that tail, holy mackerel, it ever stops!!!  He's a great cuddler, but when he's had his fill, he moves on.  Litter box has been no problem, and he's been pretty mellow in the scratching department.  I've kept him on the same food, which he seems to be absolutely fine with."
I seriously couldn't have asked for a better match for Stanley, and I'm really happy to introduce another person to the joys of three-legged cats. 😀